GA 1 - 2 - 3 - 4 - AP 1 - 2 - 3 - 4 - 5 - NT 1 - 2 - 3 - 4 - 5 - 6 → Vol.1No.2

Vol.1, No.1, NT4
TOSHIBA CORPORATION
KEYWORDS:
SCC, PLR piping, austenitic stainless steal, sensitized zone, Cladding, CRC
1. Technical summary
Classification
(I: Inspection, II: Repair, III: Replacement, IV: Preventive Maintenance, V: Others)
In this process, SCC sensitivity is mitigated by cladding of the non-sensitized weld metal over the sensitized pipe inner surface near weld.

There are several processes to cover the pipe inner surface with weld metal (inner surface cladding). A typical example is shown below.

| | *Note: SHT means Solution Heat Treatment |
| --- | --- |
| Fig. 1 Concept of CRC | Fig. 2 Sample structure of CRC |
2. Scope
(1) Components
Stainless steel piping/components such as BWR PLR (Primary Loop Recirculation) piping
(2) Object Location
SCC Sensitized zone of the pipe base metal near the weld
(3) Materials
Austenitic stainless steel
3. Features
(1) Prevent initiation of SCC crack at the sensitized zone
(2) This technique is applied under the air condition
(3) This technique is adopted at the installation of piping/components (construction or replacement )

4. Examples of Application
(1) This process was applied to BWR PLR piping.
(2) Same process has been applied to the inner surface of BWR nozzle/safe-end weld.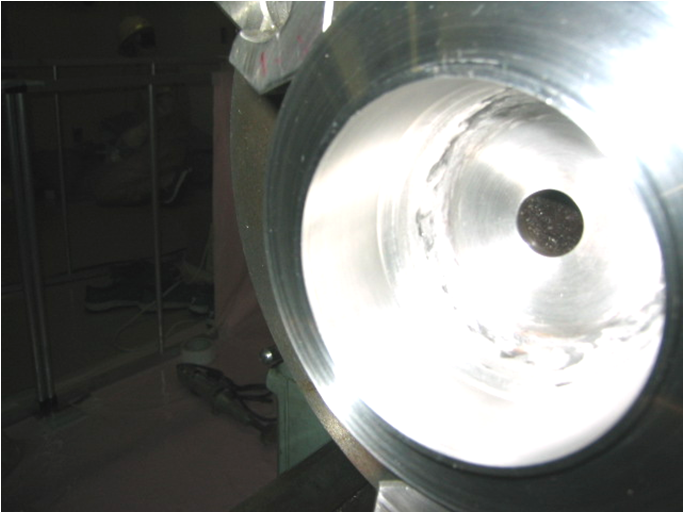 Fig. 3 Application of CRC
5. Reference
(1) Teruaki Sato, Kazuyoshi Yonekura, Satoshi Hongo, Shoji Hayashi and Hideyo Saito, "Introduction of Repair/ Maintenance Techniques for SCC in Primary Loop Recirculation System Pipingr", Maintenology,Vol.3,No.3,
(2004)( in Japanese). (in English)
(2) Shinji Tanaka, Tadahiro Umemoto and Ryoichi Kume, "Mitigation of Stress Corrosion Cracking Utilizing Corrosion Resistant Cladding", Ishikawajima-Harima Engineering Reviw,Vol.19,No.3,(May 1979)( in Japanese).

6. Contact
Japan Society of Maintenology (ejam@jsm.or.jp)