Vol.2 No.1
GA 13 - AA 15 - SP2 (16 - 17 - 18 ) - NT 23 - 24 - 25

Vol.2 No.3

Vol.2, No.2, NT23
Ultrasonic integrity assessment for foundation bolts of nuclear power plants
Hitachi, Ltd.
Hitachi-GE Nuclear Energy, Ltd.
The Tokyo Electric Power Co, Inc.

KEYWORDS:
Bolt inspection, ultrasonic testing, phased array, seismic safety, focal zone
1. Technical summary
Classification
(I: Inspection, II: Repair, III: Replacement, IV: Preventive Maintenance, V: Others)
Integrity assessment for nuclear power plant major components is essential for aging management and seismic safety evaluation. Foundation bolts are support structures important to structural integrity. Therefore ultrasonic testing (UT) as volumetric inspection method is effective for integrity assessment of the bolts. The foundation bolts in nuclear power plants have various lengths and diameters, and one end of the bolt is embedded in concrete. An ultrasonic transducer is coupled to the end of the bolt (Fig.1). Aperture of the transducer is optimized based on length and diameter of the bolt. Ultrasonic beam is scanned for covering inspection area, both threads at the top and the bottom. Validity of conventional UT method (normal beam longitudinal wave technique) and phased array UT methods with different beam scanning (2-D and 3-D phased arrays), listed in Table.1, is confirmed through experiments of foundation bolt test pieces (Fig.2).
Table.1 Ultrasonic testing methods for bolt inspection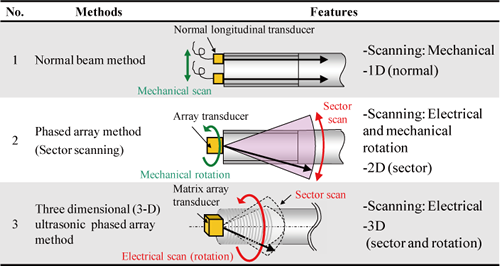 | | |
| --- | --- |
| (a) Schematic view | (b) Ultrasonic field in bolt |
Fig.1 Ultrasonic bolt inspection
| | |
| --- | --- |
| (a) Photo of foundation bolts | (b) Artificial defect (notch) |
Fig.2 Test pieces of foundation bolts
2. Scope
(1) Components: Foundation bolt (length: 0.5-2.0 m, diameter: 20-60mm).
(2) Inspection Area: Top and bottom threads.
(3) Materials: Carbon steels.
(4) Condition: UT transducer coupled to one end of the bolt.
3. Features
Conventional UT method: Position of the UT transducer is scanned mechanically on the end face. Inspection data is displayed as A-scan representation, ultrasonic intensity as a function of received time (Fig.3)
| | |
| --- | --- |
| (a) Top thread: 1.6mm notch | (b) Bottom thread: 1.6mm notch |
Fig.3 Results of longitudinal normal beam method (test piece)
Two-dimensional phased array method: Angled ultrasonic beam is steered electrically and the array transducer is rotated mechanically. Inspection data is represented as B-scan image, cross-section view (Fig4.).
| | |
| --- | --- |
| (a) Top thread: No notch | (b) Top thread: 1.6mm notch |
Fig.4 Results of two-dimensional phased array method (test piece)
Three-dimensional phased array method: Beam steering and rotating is scanned electrically at real time. The acquired data is processed to the three-dimensional voxel image (Fig.5).
(a) 3-D view
(b) Cross section view
Fig.5 Results of three-dimensional phased array method (test piece)
4. Examples of Application
All notches with depth of 1.6mm and 3.2mm are detected for the conventional method, 2-D Phased array, and 3-D phased array method.
Visualization through the phased array methods improves flaw recognition.
3-D phased array method provides quick and wide-region imaging covering whole inspection area.
5. Reference
[1]

S. Kitazawa, N, Kono, A. Baba, Y. Adachi, M. Odakura, and O, Kikuchi; "Three-dimensional visualization and evaluation techniques for volumetrically scanned data of ultrasonic phased arrays", Insight, vol.52, No.4, 2010
6. Contact
Japan Society of Maintenology (ejam@jsm.or.jp)