Vol.1 No.1 ← GA 5 - AP 6 - 7 - NT 7 - 7(1) - 7(2) - 8 - 9 → Vol.1No.3

Vol.1, No.2, NT7(2)
WATER JET PEENING AS RESIDUAL STRESS IMPROVEMENT METHOD FOR ALLOY 600 PWSCC MITIGATION
MITSUBISHI HEAVY INDUSTRIES, LTD.
KEYWORDS:
WJP, peening, residual stress improvement, PWSCC, Alloy 600, Austenitic stainless steels, reactor vessel
1. Technical summary
Classification
(I: Inspection, II: Repair, III: Replacement, IV: Preventive Maintenance, V: Others)
The improvement of surface residual stress is effective in prevention of stress corrosion cracking (SCC) occurring by tensile residual stress. Water jet peening (WJP) generates the compressive residual stress on the surface of the material by the extremely high impulse pressure caused by the collapse of cavitation bubbles when high speed water jet is discharged in the water.
2. Scope
(1) Components:Reactor vessel (RV) of PWR
(2) Material:Alloy 600 (Nickel based alloy) and Austenitic stainless steels of SCC sensitizes zone
(3) Condition :This method can be applied to components under water
Fig. 1 WJP objects in reactor vessel of PWR plant (example)
3. Features
(1) WJP improves stress on a material surface in a wide and deep area with only one or a few travel path.
(2) Implementation in complicated form is possible, since the suitable construction condition range is wide.
(3) Using only water for treatment, no foreign material is delivered and no heat influence is caused.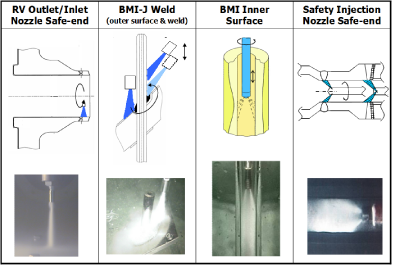 Fig.2 WJP situations for PWR objects
(a) Residual stress of J-weld surface
(b) Residual stress of nozzle outer surface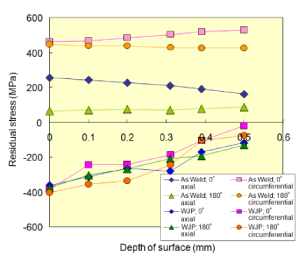 (c) Residual stress of nozzle inner surface
Fig.3 Effect
Results of residual stress improvement effect on the BMI J-weld mockup
4. Examples of Application
Several parts of PWR plants as below,
(1) Outlet/Inlet Nozzle safe-end of RV (more than 10 plants)
(2) Safety Injection Nozzle safe-end of RV
(3) RV Bottom Mounted Instrument (BMI) outer/inner surface and J-weld (more than 10 plants)

| | |
| --- | --- |
| (a) WJP for RV Outlet/Inlet Nozzle safe-end joints | (b) WJP for BMI inner surface and J-weld |
Fig. 4 Application of WJP equipments

Fig. 5 Demonstration of WJP for BMI J-weld
5. Reference
RELIABILITY OF WATER JET PEENING AS RESIDUAL STRESS IMPROVEMENT METHOD FOR ALLOY 600 PWSCC MITIGATION
ICONE16-48375 (2008)

6. Contact
Japan Society of Maintenology (ejam@jsm.or.jp)