Vol.1 No.4
GA 11 - 12 - AA SP1 ( 11 - 12 - 13 - 14 ) - NT 19 - 20 - 21 - 22

Vol.2 No.2

Vol.2, No.1, NT20
"WearMATE" Portable Ferrograph Analyzer for Wear Debris Diagnosis
The Tokyo Electric Power Co., Inc. and TRIBOTEX Co., Ltd.
KEYWORDS:
CBM (Condition Based Maintenance), Wear Condition Analysis, Debris Diagnosis, Portable Ferrograph, Condition Monitoring, Wear Particle, Ferrography
1. Technical summary
Classification
(I: Inspection, II: Repair, III: Replacement, IV: Preventive Maintenance, V: Others)
Ferrography is the one of Wear Analysis method which is given at Laboratory. "WearMATE" has been developed as a Ferrography device to diagnose the wear condition of equipments at an actual site by using circular magnetic gradient and centrifugal force.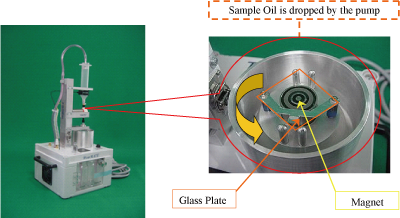 Fig.1 WearMATE's rotary part
It arranges magnetic wear debris in circularly-dispose in order of its size on a glass plate automatically and divided into "PL" and "PS". They are flowed by centrifugal force from the center to the outer of the glass plate which lies over a magnet. Larger particles (PL) in the oil, being strongly attracted to the magnet, deposit at closer of the centre part. Smaller particles (PS), being weakly attracted to the magnet, deposit equally along the distance from the centre of the strength of the centrifugal force.

The particles' photo is taken by the Optical Microscope which is equipped Transmitted light, Incident-light and a CCD Camera. The particles in the sample oil are examined its shape and surface condition.

The particles on the glass plate are also given a heat treatment to gain its temper color. By analyzing the temper color, the materials of the particle are identified. These analyses are called "Qualitative Analysis".
Particle Photo at PS Position
Particle Photo at PL Position
Binary Image
Binary Image
Wear Particle Alignment

PS: Small Particle

PL: Large Particle
Fig.2 Data Plate (Ferrogram)
The plate (Ferrogram) is analyzed and diagnosed quantitatively by dedicated software at first. Then the particles are projected its shadow by using only transmitted light and it is manipulated as a binary image. The software analyzes this image and calculates "Is" (Severity Index) 【5】degree to provides analysis results. These analyses are called "Quantitative Analysis"

WearMATE provides Wear Trend Monitoring without the objective machine stops by using these two analyses above. Moreover, it makes possible to plan an appropriate maintenance plan and reduce its cost.
Severity Index ;Is
Is = (PL + PS)( PL - PS)
= PL2- PS2

(PL+PS): Total Amount of Wear Particle
(PL-PS): Degree of Abnormal Wear

PL(%/ml):Large Particle (Large Wear Particle)
PS(% /ml):Small Particle (Small Wear Particle)
Fig.3 Wear Condition Table & Is Calculation
2. Scope
(1) Components
Bearings of generator (Steam/Gas/Water/Wind Turbine), Engine (D/G, Marine), Gear Box, Windlass (Warm Gear), Pump, Fan, Compressor, Motor, etc.

(2) Materials
Ferrous Particle, (Non-Ferrous Particle is also possible to be captured with deposition on the glass by using Gravity Force, but it may not be able to catch all)

3. Features
(1) Portable Analysis Device
The device realizes the machinery wear condition diagnosis at actual sites which have a restriction of taking oil to outside.

(2) Wear Trend Monitoring
The software holds the analysis history and it can provide the wear condition degree.

4. Examples of Application
The device is actually being used at some Nuclear Power Plants in Japan for monitoring the wear condition of their equipments.
5. Reference
[1] N. Miyata, M. Kawabata, Y. Sasaki, and T. Kamiya, "ICIT2006 Indian Institute of Science Bangalore, India" P.125
[2] N. Miyata, M. Kawabata, Y. Sasaki, and T. Kamiya, "Japan Society of Maintenology 5th Annual Meeting Mito, Japan" P.67
[3] Kenichi Oyama, Tokyo Electric Power Co., Inc and N. Miyata, M. Kawabata, and T. Kamiya, TRIBOTEX Co., Ltd. "Inspection Engineering 2009 May issue" P.28-33
[4] Japan Patent 3626744
[5] JEAG4222-2008 Guide for Predictive Maintenance at Nuclear Power Plant - Oil Analysis
6. Contact
Japan Society of Maintenology (ejam@jsm.or.jp)