China Column
May 25, 2010
China Nuclear Energy Association
Dong Han, China Nuclear Energy Association (CNEA)
Keywords
China, Nuclear Energy, Association, China Nuclear Energy Association, CNEA
1. Background
China Nuclear Energy Association (CNEA), as a nationwide non-governmental organization, was established on April 18, 2007 with approval by the Ministry of Civil Affairs. CNEA was initiated by over 100 enterprises and institutions involved in nuclear energy fields, including the Expert Consultative Committee of the former Commission of Science, Technology and Industry for National Defense (COSTIND),
China National Nuclear Corporation (CNNC)
,
China Nuclear Engineering Group Corporation (CNEC)
,
China Guangdong Nuclear Power Holding Co., Ltd. (CGNPC)
, and
China Power Investment Corporation(CPI)
, etc.
2. CNEA Organization
The Chairman and Legal Representative of CNEA is Mr. Zhang Huazhu, former Chairman of China Atomic Energy Authority (CAEA). CNEA's secretariat, responsible for CNEA's daily work, consists of 5 departments, namely General Affairs, R&D, Technical Support, International Cooperation and Publication (Please see annex 2).
The CNEA Secretariat
Secretary General: Mr. MA Honglin
Vice Secretary General: Mr. XU Yuming and Mr. FENG Yi
Head of General Affairs Dept.: Mrs. GAO Yulan
Head of R&D Dept.: Mr. XU Yuming
Head of Technical Support Dept.: Mr. FENG Yi
Head of International Cooperation Dept.: Mr. LONG Maoxiong
Head of Publication Dept.: Mr. WANG Zhaofu
Department of General Affairs
-

Drafting the CNEA's bylaws and rules and important papers;

-

Managing the organizational funds and human resources, responsible for external contacts;

-

Undertaking the routines of Experts Committee, Finance Management Committee and Organization Management Committee.
Department of R&D
-

Studying the development strategy and other major issues on nuclear energy industry;

-

Studying the worldwide nuclear energy situation, conducting market predict and economic analysis;

-

Organizing technical exchange and cooperation among members;

-

Organizing and preparing the nuclear energy industry standards under authorization of the government.
Department of Technical Support
-

Organizing the activities of peer review and experience feedback of NPPs in operation and under construction under authorization of the government;

-

Supporting the government to organize the special post training for nuclear energy industry, granting certifications for special post staff in the nuclear energy industry with authorization of the government;

-

Organizing the training course on nuclear safety culture;

-

Offering consultation for the government, enterprises, associations and individuals; providing information, education, training and special technical services;

-

Undertaking the routines of NPP operation assessment committee and NPP operation experience exchange committee.
Department of International Cooperation
-

Shaping the proposals on CNEA's international cooperation and exchange;

-

Organizing the members to participate in foreign exhibitions and exchange events and supplying the related services to them;

-

Arranging foreign affairs for the CNEA's leaders and undertaking the tasks concerned with foreign exchange;

-

Preparing for international activities undertaken or held by the CNEA;

-

Collecting the foreign trends and information on nuclear energy industry and nuclear energy agencies.
Department of Publication
-

Issuing China Nuclear Energy, Nuclear Energy News, and China Nuclear Energy Yearbook;

-

Constructing and updating the official website of CNEA.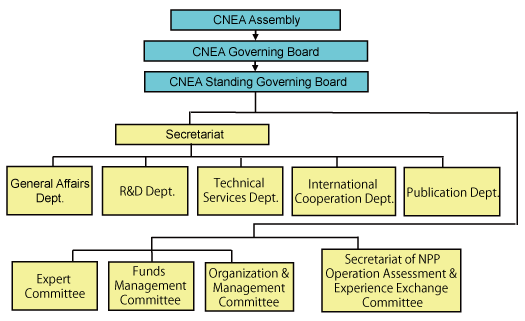 Fig. 1 Structure Chart of CNEA
3. Mission of CNEA
The mission of CNEA is to carry out national nuclear energy policy, to promote innovation and technical progress, and to serve improvement in safety, reliability and economics of nuclear energy utilization, for the sake of nuclear energy industry development. CNEA's major tasks are to smoothen communication & understanding among the government departments, members of CNEA and foreign counterparts in the nuclear energy field, to protect the rights and interests by laws of the whole sector and its members, to offer advice and suggestion to the government, to facilitate solution for worries and problems of enterprises, to function as ties and bridges. On February 2010, CNEA had been awarded '5A' brand­——the highest rank for Chinese industrial associations as well as the title of "National Advanced Social Organization" by the Ministry of Civil Affairs after nationwide examining and evaluation.
4. CNEA Main Activities
(1) Providing service to the government
-

CNEA conducts research on the subject of industrial development strategy, and provides technical support for decision-making for the government;

-

Undertakes tasks which are transferred from the functions of the government, such as holding international or domestic conferences, symposiums and seminars, and provides training on safe production.
(2) Provide service to the members, including:
-

Market prediction and economic analysis on nuclear energy application;

-

Technical consultation and special technology service;

-

NPP peer review and experience exchange;

-

Nuclear power construction project peer review.

-

Information exchange and cooperate with foreign counterparts and organizations, including setting up cooperation relations and organizing seminars with oversea organizations.

-

Training for special posts employees in nuclear industry, such as NS and QA.

-

Organizing China's nuclear energy sustainable development forum and the international nuclear power exhibition

-

Information exchange by its website and the publication.
5. CNEA members
Until now, CNEA has 251 members, which come from enterprises and institutions in the areas of nuclear facility building, operations, research & design, construction & installation, equipment manufacture, nuclear fuel cycle, technical service, personnel training & education, etc. All of Chinese research & design institutions and construction & operation enterprises on nuclear power are members of CNEA.
6. Perspectives for the future
In recent years, CNEA has signed bilateral Agreements or Memorandums with nuclear organizations in France, South Korea, Japan and China Taiwan successively. In the future, CNEA will continue to actively promote cooperation and communication with international nuclear energy partners, accelerating the sustainable development of peaceful use of nuclear energy in the world.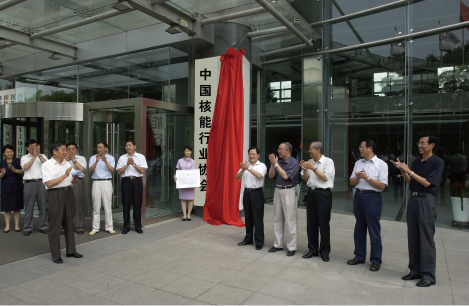 Contact Person
Ms. Dong Han, Ms. Chang Bing
Tel.:+86 10 8830 5809, Fax:+86 10 8830 5825
Email: dic@china-nea.cn, Website:
http://www.china-nea.cn
Add.: No.12 Che Gong Zhuang Ave., Xi Cheng District, Beijing, 100037, P. R. China